If you don't already know it by now, the people behind this Singapore Travel Blog are 2 adrenaline junkies and we are always up for an adventure! We make it a point to visit the various theme parks of the countries we visit and often queue for hours just to get onto a Roller Coaster.
But when you think about Theme Parks and Roller Coasters, most people only think about the Universal Studios franchise or Disneyland etc as the Theme Park scene in Asia does seem abit barren. And with these franchises simply repeating their success model for new locations, the rides across countries seem almost repetitive (i.e Universal Studios Singapore's Transformer ride is similar to Universal Studio Japan's Spiderman, only deferring in story line), so you can only imagine the excitement we felt when we come across an awesome Roller Coaster that is not known to many.
We have come across quite a few good Roller Coasters like that such as the T-Express from Korea's Everland, Hong Kong Ocean Park's Hair Raiser etc, but none of these came close to what Dinoconda had to offer.
Dinoconda Review
Well hidden in the province of Jiangsu is a theme park known as Changzhou Dinosaur Park (Changzhou Kong Long Yuan). It is less as publicized to the general tourist and during the time we were there, realized that it was mainly the locals that frequent the park.
But once you step into the park, you would almost immediately realize the one attraction that towers over every other ride. The bright red tracks that seemingly want to warn you about the Roller Coaster doesn't seem to deter the general public from walking in that direction. Follow the crowd and you would soon find yourself at the entrance of Dinoconda!
If you are anything like us, standing at the bottom of an impressive 226.4 ft (approximately 20 stories high) track, you would hesitate joining the queue and wonder if you should take some other warm up ride before you attempt the Dinoconda. But honestly, don't bother cause this is the only ride you NEED to take in Changzhou Dinosaur Park!
Every once in awhile while you are in the queue, you would hear the roller coaster moving off and as you look up at the coaster, there seem to be something amiss about the coaster, like something just isn't right. It personally took 2~3 coasters to pass me by before i realize what the difference was, the seats would swerve.
The thing about Dinoconda is that it is one of the world's few 4th Dimension coaster. What it means is that the seats rotate independently regardless of the orientation of the track. To be more specific, you can be dashing down a steep drop while your seat is back faced and you can literally do nothing to prepare yourself for it before hand. According to Wikipedia, there are only 9 other such 4th Dimension Coaster in the world with the bulk of it found in Six flags. Dinoconda is the only 1 of 2 such coasters found in Asia.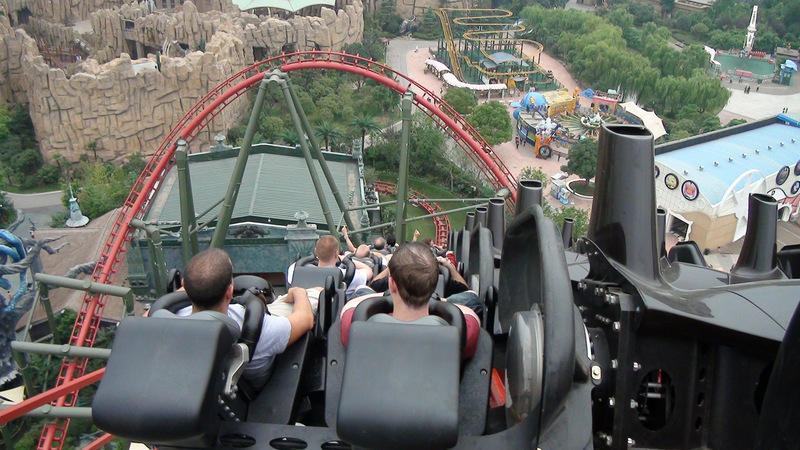 After an almost eternal wait in the queue, the operation staff would open up the gates and wave you through either of the 2 entrances (determines you would sit on the left or the right). You would be sitted BACKWARDS and once everybody is strapped in, the floor beneath your feet disappears, allowing your feet to dangle in midair.
The ride begins with a slow but terrifying climb to the top, cause unlike most other coasters where you face the front and all you see is the blue sky as your roller coaster ascends, you are back faced on Dinoconda and you can see exactly how high you actually are.
While there are a couple of turns, dips, drops, spins etc, the most notable one has to be the very first drop. Cause as the coaster reaches the peak, your chair actually flips outwards and because the track curves in on the way down, at one point of time, your body would be parallel to the ground with nothing to prevent you from falling but the chest strap of your seat. All these while being hung 20 stories high. While my mind wanted me to raise my hands and enjoy the rush, my hands were just not complying as I held onto the  handle for my life (literally). [*PS Please pardon our badly done paint drawing to illustrate our point]
The ride then goes through it's series of drops, turns, flips etc at 78.3 mph (126kmph). But we have to say, aside from the very first drop that we mentioned earlier, the rest of the tracks weren't half as scary. That is due to the fact that the seat rotates and your body loses it's orientation and at some point of time, you don't even know what's coming so you're not even afraid. Plus, the spinning of the seat does allow you to see your friends at the back which just makes the whole coaster thing more fun!
We do also have to highlight that while the ride is just intense fun, the management of the ride itself is horrendous. We had to queue over 3 hours (part of the reason why we mentioned earlier to just directly head for Dinoconda first and ignore everything else in the park) and there were quite a few incidents of people cutting queue etc. A painful 3 hours wait, but it's 3444ft (over 1 kms) long track made it one of the longer roller coaster rides.
Getting to Changzhou Dinosaur Park – Dinoconda
We took this ride in 2014 and even though we have been dying to share about this park, it was very inaccessible as we personally flew in from Singapore to Shanghai and had to transfer to a more than 3hours long drive just to get to Changzhou Dinosaur Park.
But that all changed when TigerAir recently launched their flights direct to Wuxi 4 times a week.
To get to Changzhou Dinosaur Park and experience Dinoconda (plus earn your bragging rights/badge of honor on one of Asia's best roller coasters), simply take a 5 hour flight direct from Singapore to Wuxi via TigerAir and from there, you can either Uber or take a cab (appx 1 hour drive) to Dinosaur Park!
You can view the full experience that was taped by the Theme Park Review guys here, but personally we don't understand how they were able to hold on to the camera:
What do you think of the Dinoconda? Would you ride something like that or have you ridden scarier roller coasters? Let our travel blog know in the comments below!