It's not my first time to Hong kong, I have in fact been to Hong Kong in more than one occasion where in the first couple of times ive been there, I went with my family in bigger groups. So when I was traveling to Hong Kong with Nicole, we decided to do the traveler thing and go for a cheaper hostel instead. Throughout our entire singapore travel blog, we have tried not to write bad reviews cause we do not wish to affect a business's livelihood, but just staying at this place for one night, i felt absolutely compelled to tell the world it.
Although some might argue that it's "value for money" and that "you get for what you paid", Chunking Mansion is one of the worst place I've personally stayed in Hong Kong.
Located near the Tsim Sha Tsui MTR Station, Chunking Mansion is actually quite convenient and easy to get to, but there's about all of the pros I could think of.
When you walk pass Chunking Mansion, it doesn't come naturally to you that it's a hostel/hotel cause it isn't. Chunking Mansion is in fact much like a shopping mall on the first floor with shops selling handphones etc. (If you're living in Singapore, it's first floor is much like our Mustafa that sells an extremely wide range of products from fruits to electronics, that is honestly quite bizarre.) Many different Hostels rent spaces on the upper floors of the building and have rooms cheaper than USD$30 per night.
But even getting to the particular hostel you book for is confusing, they have four different lifts at four corners of the building with each serving a different block. So you would have to figure out which block your particular hostel belongs to and make your way through hundreds of non-locals touting you to their hostel to get to the right lift.
And when you do eventually find the right lift, the lifts are uncomfortably small and slow which usually leaves a long queue waiting at each lift especially during peak hours. If you are claustrophobic or anything near that, you wouldn't like the lift experience.
Most hostels in the Chunking Mansion uses an automatic door lock system which you would require the reception to buzz you in (if he/she is even at his desk). But for the particular hostel we stayed, the door lock felt flimsy, and if i pulled it hard enough, i would be able to open it by brute force alone.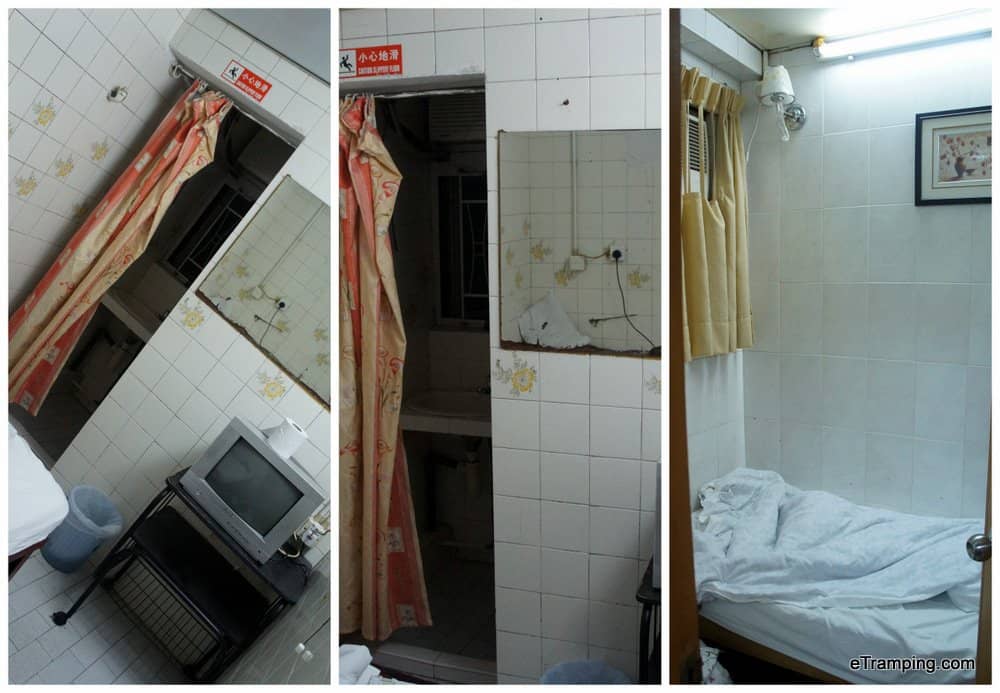 Upon checking in, you are then issued your key which you use to unlock/lock the very basic door handle lock most of us use at home to get into your room. The room is small with bare minimal necessities, but that I can live with cause hong kong apartments are generally small and I didn't need much of most hotel luxuries, it's just a very general feeling of sleaziness that got to me and left me uncomfortable just staying in my room throughout the rest of my trip.
If I had to sum up my overall experience staying there; it was "scary" and mind you, I'm a grown ass man skilled in the art of Muay Thai, but i still felt uncomfortable. It starts with the amount of people getting in your face trying to tout you to their hostels and the uncomfortable squeezy lift that fits one to many people, to the lack of security in my room that had me picturing a hollywood scene with robbers barging in and taking all I have.
If you've read enough of our articles and travel tips, we are often strong advocates of saving on the flight and accommodations so you can spend more in the country. While you "get for what you paid" is certainly true in this case where Hostels in Chunking Mansion is probably one of the cheapest accommodation anywhere in hong kong, I personally try not to risk my security, especially when im traveling with a female partner and would rather pay a tad more to at least feel at ease in a place I call home within a foreign land.
One of the primary reasons why I decided to write this article is because I believe alot of these touters would spend time and create accounts to leave good reviews on various different hotel booking platforms. I for one thought I was getting a good deal when I was reading through reviews to book my stay, that was all till i got there and knew i'm never staying here again.
If you are traveling to Hong Kong, read our recommended hotels in hong kong article.