So it seems like most people have been to Bali at least once in their lives. But what about Bandung? Not many people know where Bandung is, let alone what's in store for them.
As the capital of West Java, Bandung is surrounded by beautiful natural volcanic mountains and also known for its cool temperature all year round. It's like walking in aircon temperature at 19 degrees, especially at night. You barely feel the humidity as compared when travelling to other parts of Indonesia. With its many scenic places of beauty, and extraordinary priced food, Bandung is an anti-mainstream destination to explore!
Our  Travel blog sent our travel writer Denise and her boyfriend, Hanlong, to uncover this less as known city just 2 hours flight time away from Singapore and they came back with 8 Amazing Things to do when in Bandung.
1. KAWAH PUTIH
Step into a unique realm of Bandung when you visit this crater lake. First things first, we were amazed by the turquoise colour lake that changes colour based on weather and sulphur concentration. You can actually see sulphur lined along the shore. On a cloudy morning when we arrived, the lake seemed a blend of bluish-greenish colour.
Slowly as the sun emerged, the colour of the lake became chalky white which is how the name Kawah Putih (White Crater) came about.
The smell of sulphur can be quite strong so you'll find many local people selling masks at the entrance. You won't need one if you don't plan to stick around too long. Well, we didn't see a need for it even though we hung around for an hour. It can get chilly with temperatures said to go down to 10 degrees celsius so do bring a jacket along!
It may have taken us 2.5 hours to drive up to Ciwidey from Dago (where we stayed in Bandung) but there's something eerie yet beautiful about this place! A hidden gem, a must-go when in Bandung.
2. RANCA UPAS
We decided to check out a deer conservation park just 20 minutes drive from Kawah Putih.
At 10,000 IDR (About SG$1), you can grab a bag of carrots and feed these deers! Boots are also available for rent, should you be interested to head down onto their turf for a closer experience.
Ranca Upas is also a camping ground where many local tourist spend the weekend away from the city. Camping equipment is available for rent from stores within the vicinity.
3. BE A LOCAL – EAT STREET FOOD
So what's traveling to any country if you don't immerse into their local culture? We came across many roadside pushcart selling "MIE BAKSO" but frankly we were concerned about hygiene. Afterall, you have motorists driving just metres away from the cart, food exposed to fumes and food handlers without gloves. We were really quite hesitant but we decided to stick around for abit. We noticed a steady stream of customers and we were hungry so staying true to our Singapore food blog ethos, we decided: WE HAD TO GIVE IT A TRY!
We absolutely had no clue what type of meatball it was but the food smelled delicious for sure! We copied what the locals did; add dark sauce and chilli sauce to the soup, stir thoroughly and EAT! To our surprise, this bowl of authentic beef ball and springy noodles was so sedap (means delicious in Bahasa Indonesia), it is a mandatory dish you have to try when in Bandung! And no, we didn't have any stomach upset after. 🙂
*EDIT: We just heard from our local friends that this particular random cart that we visited just so happens to be one of the most popular Mie Bakso Carts anywhere in Bundung. Lucky us! 😀
4. TEBING GUNUNG HAWU
Tebing Gunung Hawu is a cliff located in Padalarang, West Bandung where you'll find many limestone mountains.
Leave the roads, take the trails. We believe the adventure is out there, you just got to find it! Adrenaline junkies and rock climbing enthusiasts, this is one limestone cliff you want to check out when in Bandung! If you manage to get hold of a hammock operator, you get to hang out between the rocks! We had a tough time finding an operator as anything we googled up was in Bahasa Indonesian and with no contact number to dial. It was a pity the operator we finally managed to contact on Instagram (@gocay.uliners) had a tight schedule during the period we arrived in Bandung. Learn from our mitakes and be sure to contact them early and book a date with them before your trip!
Take a moment to enjoy the view where it is uninterrupted. Of lush greenery, it is definitely a landscape to enjoy away from the hustle and bustle in the city.
Located behind Singgalang limestone mountain, "Hawu" means a "fireplace" in Sundanese because of its massive "hole" that you'll find in the middle and top when seen from the Cidadap village.
5. GOA PAWON (PAWON CAVE)
If you have an interest in history and ancient human fossils, Pawon Cave would be an ideal destination to explore. This cave is believed to previously home people and you'll actually get to see the real human fossils that are more than 9,500 years old.
Upon entering the cave, we were greeted by a pungent smell and later realised they were actually bat turds as the cave is currently home to fruit bats. We could hear them chirping away as we continued exploring but they're harmless if you stay on your route. The cave is relatively low and dark but it didn't last for long.
This is my favourite part of the entire cave where I get a good window view of Mount Masigit village in Padalarang. Apart from the view, we found wall scribbles that is said to be from ancient times. This place definitely isn't popular with tourist but I was personally intrigued by the natural textures and formation of this cave.
6. STONE GARDEN GEOPARK
Closely located from Goa Pawon, the Stone Garden Geopark (also known as Taman Batu Geo Park) is a natural attraction for local tourists.
As we ascended up the hill, large calcium-rich stone formations could be seen. These stones are believed to be similar to those found in the ocean, when Bandung laid  hundreds of metres underwater until a valley was formed after a few volcanic eruptions.
We soon found ourselves climbing up the highest rock where we could admire the green valley and the mountainous view that surrounds Bandung!
7. FOUR POINTS BY SHERATON BANDUNG HOTEL
Strategically located in Dago, the heart of Bandung tourist sites, Four Points by Sheraton Bandung Hotel is an ideal choice for accommodation during your visit. The hotel is 20 minutes drive away from Husein Sastranegara International Airport and conveniently situated near shopping malls, restaurants and tourist spots.
I absolutely love the classy European design that welcomed us at the reception and how natural sunlight could penetrate to brighten the area.
Reception staff were very welcoming and thoughtful, to provide assistance with every request and ensured we had a memorable stay.
We were very happy to be given a corner premium room away from the main corridor which was very private. We like how the room was nicely decorated and gave a clean look with everything decked in white.
Most importantly, the bed was so comfortable, we had an even tougher time getting out of bed every morning than usual! We definitely had a good sleep!
What we loved too about the room was the walk in shower and the bathtub. We were impressed with how Four Points by Sheraton Bandung Hotel ensured our room was made up after returning from a long day. I mean, what more can you ask for when your bed is made, fresh towels and dry toilet upon return? This service was tip-top!
The view from our room at sunrise, overlooking the mountains of Bandung. A pity the windows can't be opened.
We had breakfast at the hotel's all day dining area – Saffron Restaurant. There, you'll be spoilt for choice with an array of delicacies ranging from international to local Indonesian food. It was a feast in our tummies!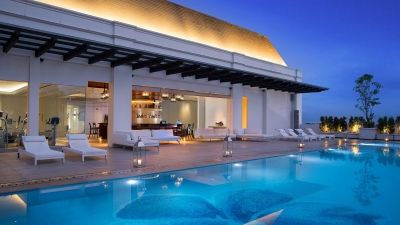 Every Friday evening from 5pm-9pm, the hotel revamps the swimming pool area to become a barbeque night at the Citrus Pool Bar. What better way to end your TGIF than with live music performance, delicious barbecued meat and desserts?
Looking for a place to chill with a drink and some finger food? The hotel has a sky lounge located on the 12th floor. Edelweiss Sky Lounge has both indoor and outdoor seating that overlooks Bandung's landscape.
In short, if you're looking for a fuss-free stay in Bandung, Four Points by Sheraton Bandung Hotel has everything covered for you!
Check out the cheapest prices for Four Points by Sheraton for your trip to Bandung right here:
alternatively, if you are a villa type of person, you can also check out Bandung Villas.
8. MASSAGE
After all that climbing and exploring we decided to treat ourselves to some reflexology. What's Indonesia without at least some form of massage right? The hotel staff at Four Points by Sheraton Bandung Hotel were very kind to recommend OLA Family SPA & Reflexology and ZEN Family Spa and Reflexology. Both outlets have reasonably priced (relatively cheap in Singapore terms) massage packages to select from. We tried the sports massage and hot stone massage, which turned out very well. Be sure to book in advance as both OLA and ZEN Family Spa and Reflexology are always in demand, even on weekday nights.
Walk the path less traveled and forget the conventional places everybody is heading to. Share this article with your friends and family and tell them about the wonders of this lesser known city.