As mentioned in our Things to do in Hokkaido article, Hokkaido is made out of 5 main areas and Sapporo is it's central and one of the main areas of Hokkaido. It's close proximity to Chitose Airport make it one of the prime areas to fly into Hokkaido by.
Here's 8 places of attractions that our Singapore Travel Blog would recommend when you're up in Sapporo.
1) Shiroi Koibito Park
Let's face it, everyone loves these delectable buttery smooth white chocolate biscuits that literally melts in your mouth. These internationally famous Hokkaido biscuits fit well both in your tummy and as a souvenir for your friends/family. It is sold primarily in Hokkaido and is just a must must MUST try!


Shiroi Koibito Park, is the birthplace of these little treats from heaven. Visitors pay an entrance fee to obtain a "passport" to have full access into the facility and observe the entire production facility of the cookie making in the factory.
If price isnt an issue, you and your family/friend can have a shot at making some of these mouth-watering cookies first-hand! There are various course/options available and we chose the one that allowed us to make our own biscuits. These half day baking courses can be booked online on their site or at the entrance of the place for an additional fee on top of the entrance tickets. And Yes, you get to keep the cookies you made after the course!
We saw a few dads bringing their kids in the class and we reckon it would be a very fun activity for couples and families with little ones.
Also, do not forget to grab your box of Hokkaido biscuits on your way out. We personally preferred the milk chocolate over the dark chocolate and thought the ice cream and chocolate milk was worth a try as well.
2) Sapporo Beer Garden

The birthplace of the "Sapporo Beer", is currently a beer garden run by different breweries, and definitely an eye opener, and a must check in place for beer lovers around the world.
3) Central Wholesale Market
Another popular area for tourists would be the Street Market at the central wholesale market. It resembles the Tsukiji Fish Market in Ginza, Tokyo, where they are lined with fish stores selling seafood that are as fresh as it possibly can get. Tourists usually visit the Street Market to buy gifts home as well. Do remember to try the delicious Yubari Melon!
4) Sapporo Mount Moiwa Ropeway
Mount Moiwa, famed for its mesmerizing autumn leaves and panoramic view of Sapporo, is the place you'd want to be to get the best views. You can make your way up Mount Moiwa by taking the newly built ropeway called the "Mo-risu Car", and travel up the summit. When you're at the summit, you can enjoy panoramic views of Sapporo while enjoying a fine meal in the restaurants available, or idle the time away in the planetarium.
5) JR Tower
If you're afraid of heights and have doubts about going up the Mo-risu Car, but still want to enjoy the beautiful views of the Sapporo night, fret not. You can make your way to JR Tower complex, which is conveniently located at Sapporo Station. JR Tower is a commercial building conveniently connected with the main station, and easily accessible for people of all ages. Make your way to the T38 observation deck on the highest level of JR Tower. There, you can likewise enjoy panoramic views of Sapporo without going up Mount Moiwa. In addition, there are fine dining restaurants, movie entertainment and shops available in the building.
6) Jozankei Onsen
One of the finer things in life that Japanese people sought to do as a form of relaxation after a long hard day at work, is to visit a hot spring, also known as "onsen". But here's the thing, you have to be comfortable baring it all and sitting into a lake or pond with plenty of other women. So if you're not shy about going bare in front of a bunch of other women and sharing your personal space while relaxing, head out to the outskirts of Sapporo to a popular hot spring resort called "Jozankei Onsen" for a once in a lifetime experience.
 7) Historical Village of Hokkaido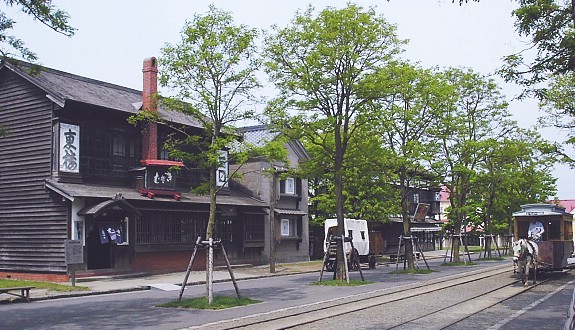 Throughout Japan, you will be able to admire the rich cultural aspects of this widely adored country, and its strong traditional beliefs, especially in Osaka and Kyoto, where imperial palaces and traditional homes are restored to its original glory to maintain its historical value. This is likewise in the historical village of Hokkaido. In this village, you can find restored and relocated structures that date back to the Taisho and Meiji eras. If you're into architecture, this place is one attraction not to be missed as you can experience up close the different historical types of architecture throughout history.
8) Northern Horse Park
If you've been following us on social media, you would have known about our horseback riding experience recently in Australia. If you think that's the only place with fancy horses for horseback riding experience, think again. The Northern Horse Park in Sapporo features every need of a full-fledged tourist experience on horseback riding. Another plus point to visit them during winter is that snow rafting and snowmobiling activities are available as well for the entire family!
And yes! We're packing our bags and leaving soon for our long awaited year-end trip to none other than…. JAPAN! Stay tuned to our Travel Blog for more photos and live updates from our trip on our social media accounts!
We would also be updating Part 2 of the Things to do in Hokkaido soon!
Read also: