Located just an hour flight away from Seoul, Jeju is an island with bountiful natural wonders unharmed by globalization which makes it one of the best places in Asia to get in touch with Mother Nature. Jeju island is divided into 2 parts, the north (Jeju-si) and the south (Seogwipo-si), and our travel blog would recommend freeing up approximately 3~4 days to give this beautiful island a visit.
To get around, it is pretty common for tourists to book an entire cab for a day which would cost approximately SGD 150. Most of these cab drivers do speak English/Mandarin and would be happy to be able to ferry you around for the day if you would only ask.
Renting a car/cab is by far the best option for tourist as we have found in our travels, Jeju is still steered towards the suburbs and public transportation is not as efficient and reliable as compared to Seoul. It is pretty easy to get lost taking the bus if you don't speak Korean and/or if you don't know where you are going. Some of the bus stops in Jeju do not have shelter and our Singapore Travel Blog had our own experience of waiting at a busstop in the pitch black jeju winter night for over 30mins only to give in and deciding to call a cab instead.
However, if budget is of a concern and you would want to take the bus when you are there, try to find accommodations and places to stay in Jeju that are within walking distance to "Jeju's Intercity Bus Terminal" as specific buses only serve specific parts of Jeju, it would be pretty troublesome taking a bus back to the terminal and still having to switch buses after a long day exploring/hiking just to get back home. Do also be warned that if you are going to take the bus as your mode of transport in Jeju, bus stops can be located pretty far away from the attraction and unlike city areas where you can easily ask someone on the street for directions, there are times when we walked for miles in Jeju without bumping into anybody. So don't forget to ask the Tourist Help desk located at the Intercity Bus terminal for specific directions after alighting at the designated bus stop.
But whichever mode of transport you decide to take, we have found that the best way is to cover Jeju is to look at the map and group the attractions you would like to visit together as this would allow you to cover as many attractions as you can in a day and not waste time traveling to and fro both sides of Jeju.
Jeju Attractions and Things to do
Seongsan Ilchubong (Sunrise Peak)
One of the best places to view the sunrise in Jeju would be at one of the "New 7 Wonders of the World", Seongsan Ilchubong also known as the "Sunrise Peak". Sunrise Peak is a bowl like crater which is a result from underwater volcanic activity. It is best to visit Seonsan Ilchubong during mid Winter or mid Spring, when the volcanic crater is covered with snow or flourishing with green pastures. But if you are intending to head to Sunrise peak for Sunrise, do factor in the over 600 stair climbs which took us approximately 45mins to get to the top.
Mount Hallasan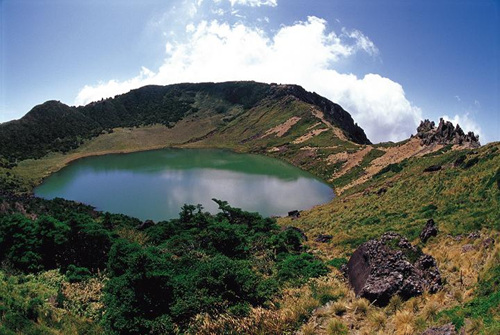 Another alternative to catching the Sunrise at Sunrise peak is arguably the main attraction of Jeju, Mount Halla a.k.a Hallasan. But getting to the top of this beauty is both a physical and mental challenge even for the young, able and energetic. It would take a total of 9 hours to hike up and down the mountain (time to factor in if you intend to catch the breathtaking sunrise from Hallasan). But when you're at the peak, rest assured that the view at the top would be sufficient reward for your climb.
Manjanggul Caves

Just a 30 min drive away from Sunrise Peak would be the Manjanggul Caves. Manjanggul Caves is a UNESCO World heritage site and a popular tourist destination. Manjanggul Cave is a 13km lava tunnel, of which only 1km is open to public, that was formed million of years ago when the volcanos where still active with lava back then. You would get to see volcanic stones, stalactites and even animals such as Bats and stone turtles in the caves! It's not everyday you get to explore a lava tube and Jeju is one of the few places that offer sucha attraction!
Jeongbang Waterfall 
As you may know, there are various waterfalls within Jeju, and our travel blog's favourite one would be the Jeongbang Waterfall! This waterfall stands out from the others, as it is the only waterfall that flows directly into the sea. You may make the climb down the rocky terrain and go as close as touching the water that flows into the sea. Sit on a rock and marvel up close at this wonder of nature not found in city areas!
Yeomiji Botanic Gardens
For those who enjoy flora and fauna, you can consider making a trip to Yeomiji Botanic Gardens, where they feature 7 different country indoor themed gardens, which is quite a feast for the eyes during Spring.
But don't be too quick to leave once you are done exploring all 7 cause outside of the building, there is still a park and a maze garden that would make a romantic picture worthy shot that you would be silly to miss!
Alive Museum
From Yeomiji, it is just a 5 minutes walking distance to the famous Alive Museum which originated from Korea. When you're there, be fascinated by the simple yet brilliantly designed artworks and you'll be hooked onto your cameras and snapping away seemingly real life pictures!
Trick Eye Museum
Another alternative to Alive Museum is "Trick Eye" museum which offers the same concept. We can't say for a fact which is better, but for what it's worth, we do know that trick eye in jeju has a special section catered to Greek Mythology!
Bukchon Dol Hareubang Park
The Dol Hareubang is probably the most recognizable icon in Jeju and can be seen around random areas throughout the island. The Bukchon Dol Hareubang Park puts together 48 statues of different sizes and shape as a tourist attraction!
Osulloc Green Tea Museum / Innisfree Jeju House
Located side by side, the Osulloc Green Tea Museum / Innisfree house is also a popular tourist attraction. The Osulloc Green Tea Museum walks you through the process of tea making/appreciation and has a cafe on the ground floor that allows you to not just munch on green tea pastries and ice cream, but also has a shop where you can buy home the famous Jeju Green tea leaves/tea bags and even some other fruity teas that are not available elsewhere.
Innisfree is an internationally famous cosmetic band made famous by using local Jeju products. The innisfree House offers the widest selection anywhere on the island and even offers the opportunity for visitors to make DIY soaps with natural materials found in Jeju.
Glass Castle
For the Artsy Fartsy, Jeju's Glass museum which is just about a 10mins drive away from Osulloc might be your thing as everything in that area is made entirely out of glass. Our Singapore Travel Blog recommend visiting in the night where with the use of lights, help make the colors and details of the glass pop.
Loveland / Sex Museum
For the kinky, fun and romantic, there are 2 areas that are dedicated to sex; Love land (an outdoor park) and Sex Museum where they cover everything erotica such as erotica statues, information, pictures etc. Do note that at the point of our visit, the Museum was mainly in Korean and there weren't alot of English information.
Hanwha Aqua Planet
Hanwha Aqua Planet located just 10mins away from Sunrise peak, was once Asia's largest Marine Aquarium and hold over 10,800 tons of water with over 48,000 aquatic animals spread over 500 species. When it opened, Hanwha Aqua planet used to hold whale sharks, hence the whale shark in it's logo, but has since released it's surviving ones after a few died. Do note that hanwha aqua planet is relatively pricey compared to the rest of the things on the list.
Black Pork BBQ
At the end of the day, regardless of what Jeju attractions you decide to visit, do reward yourself with a satisfying meal of BLACK PORK BARBEQUE found exclusively on Jeju! The tender and juicy meat that pairs perfectly with beer is sure to satisfy you after a good long day of hiking. The best part? A wholesome BBQ meal in Jeju is absolutely non-damaging to the wallet and you'd definitely be running back for more!
We hope you have found our itinerary useful and don't forget to share these Jeju attractions and things to do to anyone visiting!
Read also: