Everyone loves Bangkok cause really, what's not to love. The food is awesome, people are nice, every single thing there is wallet friendly, and there is definitely something for everyone. If you're considering a short weekend trip to Bangkok and don't have enough time to cover the whole country, our Travel Blog has helped to sum up some of our favorite things to do in Bangkok.
Pratunam market/Chatuchak market
Pratunam market is one of the biggest clothing wholesale markets in Bangkok. That being said, I personally haven't bought anything from the Pratunam market, but instead, I keep going back every morning for the awesome WANTON NOODLES!
So if you read about Pratunam and Chatuchak, you'll definitely read about all the similar things both markets can offer. But personally for me, Chatuchak definitely wins hands down.
Chatuchak market only operates over the weekend, and sells anything and everything (quite literally, because you can even get pets and exotic animals off the streets of Chatuchak). When you set foot in, ask for a map from the guard post at the entrance because the good news is that Chatuchak is in fact sectioned out by types of product. If you want to effectively comb Chatuchak, YOU WILL NEED THE MAP!
I haven't heard of any friend who has successfully combed the entire Chatuchak in 1 day. It really is a gargantuan market and you definitely will need a foot massage by mid-day. With that being said, everyone loves Chatuchak. The clothes are more fashion forward with some that can even pull off as corporate work-wear for ladies, and there are plenty of selections for the men as well. Not to mention the street food and original coconut ice-cream are da bombz! There may be a few coconut ice-cream stores popping up all around, but the original coconut ice-cream that is situated at the entrance of the food zone is still the best(it almost always has a long queue, so you can't miss it!)
When in Chatuchak, never buy things off the shelf and always try to at least Bargain a little. Also, because of the huge crowd, do look out for pickpockets and always keep your belongings close to you.
Platinum Mall
If you are staying in Pratunam, the good news is that it is strategically located within walking distance to one of the largest wholesale malls in Bangkok, the Platinum Mall. Online shops in Asia source plenty of their stocks from there so girls will go crazy shopping in Platinum! However, prices in the malls are fixed, unless you buy 3 pieces or more, you wont get a discount. And generally, things in platinum are slightly pricier than items sold in the street markets.
BIG C
And just a short 5 mins walk from Platinum mall, there is the BIG C mega mart where you can get all the snacks and local delights for your colleagues back at home! And just a couple mins more, you'll reach Central World Mall, which is another one of my personal favourites!
Central World
For example, if you're a fan of the brand Melissa (Jelly shoes), you can expect prices at less 20% or even more at Central World! There are plenty of familiar boutiques here that sell items below the usual selling price back at home, so you will most definitely end up buying truck loads of stuff! And do drop by the food level and get yourself a super famous BAKE CHEESE TART from Japan if you haven't already got a taste of heaven. The best part, same awesome tart but less the long queue!
If you fancy more upscale items, you may prefer shopping at Emporium/Emquartier. Just hop onto a taxi from Pratunam, whether its by metered fare or asking price, it shouldn't cost you anything more than 200 THB.
Emporium & Emquartier
Emporium is located directly opposite Emquartier, and they are both relatively upscale malls. Even though they carry all the expensive brands, they do still have places to shop for teens and young adults as well. It is worth a visit (or two) particularly in Emquartier, because their extensive selection of food restaurant is just insane and it totally captured my heart. I visited Emquartier thrice in one of my short 4d3n trip to Bangkok.
There were just so much food and dessert places to try. The one dessert place I would recommend is AUDREY, located in Emquartier. Their flower pot dessert is unique and comes with plenty of variation and there is definitely a flavor for everyone. If you have a sweet tooth and you can handle it, you can also consider going for the Milk Tea Crepe or Milo Crepe as well!
JJ Green
So whats Bangkok without checking out a night market right. Aside from Pratnunam, another night market that I would highly recommend is the JJ Green Market. It is located right beside Chatuchak. Just that it opens in the evening (Thurs-Sat) till late. It is a totally cool place to chill, with good old laid back bohemian feels around the market. You can expect to find good deals on fashion wear, and plenty of vintage items. The crowd is young and chill, and there's usually a live band, with good music playing all around, and you can find a nice café/bar to rest and take break.
Asiatique
Asiatique is a relatively newer area but if I only had time for one in Bangkok, this would be it. It's a river side stretch with street shops targeted at the younger crowd. Even if you have had enough of shopping, do still drop by Asiatique for a long romantic walk by the river with your loved one. There are also massage shops (one of the best we had and I regret not taking down the shop's name) and a Ferris wheel which just adds on to the whole relax vibe that the place has to offer.
True Love Café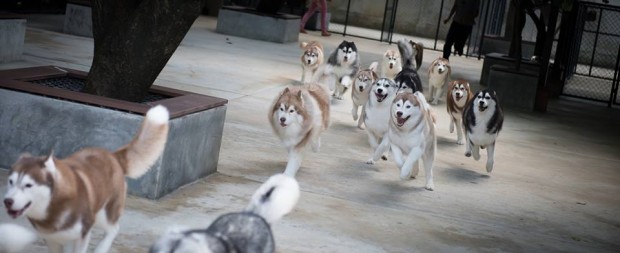 Love Dogs? Huskies especially? This is the place for you! We have all heard of Cat Cafes, Dog Cafes or even Owl Cafes in Japan, but Bangkok's True Love Cafe is the first that is targeted specifically at Huskies. Be prepared to be swarmed by an enthusiastic and excited pack of huskies when you enter. Cuddle with these beautiful dogs and let them help you forget all your worries.
Little Zoo Café

If meeting a pack of huskies isn't exciting enough for you, how about one where you get to meet exotic animals such as foxes, raccoons etc. The little zoo cafe is just that! Unlike proper zoos where these animals are usually kept in cages, at the little zoo cafe, you get to meet and touch these adorable animals in a cooling environment. Visit the little Zoo cafe for an experience like no other!
Wat Arun Temple + Wat Pho (Sleeping Buddha) Temple
If you don't already know, the Thais are a religious group and a lot of what they do revolves around Buddhism. Visiting their temples is a great way to embrace their local culture. We personally prefer Wat Arun Temple and Wat Pho Temple, which is located right across the river from each other.
Wat Arun temple is a floating temple and you would have to take a boat to get there. Wat Arun is pretty much one of the most iconic temples in Thailand and a visit during sunset offers a spectacular view.
Muay Thai
If you are in luck and is in Bangkok on the right days, head to either Lumpinee or Rajadamnern Stadium for a night of Muay Thai action. Do note that foreigners are ONLY  allowed to buy VIP tickets which comes with ringside seats and a photo opportunity with the fighters. The rear seats are only catered to the betting locals. But being ringside comes with it's benefits. It offers clear and unobstructed view of the fight which would have your adrenaline pumping and leaving you wanting to pick up a Muay Thai Class right after! Be prepared for a night of non stop action coupled with lots of cheering and betting from the crowd.
Floating Market
Another iconic thing to do in Bangkok is it's floating market. The floating market is where you take a boat out and as the name explains, go to a market of floating boats. Boats that are filled with things from souvenirs to fruits and even hot soup noodles, would approach your boat asking if you would like to have one. Think of it as a much scaled down version of vernice and add in alot of haggling and selling and you'll get a floating market. It's a unique experience that we personally haven't experience anywhere else in the world.
Soi Cowboy
For the matured audience, give Soi Cowboy a visit for a night of "Matured" entertainment. From drinks to ping pong shows, this is one only for the Matured. We shall leave explaining this part out as we are trying to keep our travel & food blog PG, so drop us a mail if you wish to know more.
A Romantic Night at Lebua
This, we are leaving for an entire post by itself because it's worth it. Don't forget to subscribe to our mailing list to know first hand when we write about this.
What NOT to Do in Bangkok
Tiger Temple
Visit a temple of tamed tigers that are run by monks in a hill. What's wrong with that right? Everything is the answer. Ever wondered why the tigers are always sleeping and never bite when your friends/families post pictures of them at the tiger temple? Well that's cause reports after reports have came in about monks drugging these poor tigers so they are consistently asleep and would not attack tourist. This is detrimental for the animals health and on top of that, the most recent news talks about the local authorities charging the temple after finding dozens of dead cubs in what the police believe is a case of wildlife trafficking.
Elephant Shows/Rides
Elephants are gentle but very powerful creatures. For them to be that submissive and afraid of their human handlers, it has to raise a few eyebrows. Do a quick search on the net and you'll see videos and reports about how these camps trap, torture and separate baby elephants from their mums and psychologically condition them to be afraid since young. If this stories don't deter you from visiting these 2 places, I dont know what will.
We are all for experiencing a country, but our Singapore Food Blog & Travel Blog strongly believe that experiencing something should NOT come at the expense of another, be it an animal or a human being. We boycott these activities including Sea World's breeding of Oracles, which involves the suffering of animals. Don't let your memorable holiday be scarred with the blood of an animal.