Vietnam is one of the busiest country in the world and it is known for it's deep rooted culture that is very different from the rest of the countries in Asia. I have previously visited Ho Chi Minh city multiple times before, but have always done so with my Dad who speaks perfect Vietnamese. So when our Singapore Food Blog & Travel blog decided to give Hanoi a visit on our own, the immediate concern we had was that neither of us spoke any Vietnamese and we were kinda afraid that we would have problems getting around.
To combat that concern, we both decided to veer away from the usual hostels/airbnbs that we use in most of the other countries we visit, and instead opt for a higher end hotel this time round. Choosing a 5 star hotel gave us the assurance that we would always have help ready and available whenever we need it. It also made us feel safer knowing that they have had experience handling tourist and we would not be scammed etc.
After scouting the many hotels in Hanoi, there was one that rose to prominence. Hanoi Apricot Hotel (Click HERE to find Apricot Hanoi's Cheapest Price on Agoda). Apricot hotel was very conveniently located but more on that as you will soon find out. This is our 4D3N Hanoi Itinerary:
Day 1 – Morning: Getting to & Checking in to Apricot Hotel
After you have arrived in Hanoi Airport and cleared the customs, the first step is to find a way to get to the Hotel. We would highly recommend heading to the tourist information center and have them arrange your transport for you. As you walk around the airport, there would be random locals coming up to you claiming that they are Taxi drivers and would offer to fetch you the your desired hotel. As per suggested by our local friends, it is highly advised that you do not take these type of private vehicles and there has been cases where they would demand a higher payment than what was agreed upon after reaching your hotel. Your safest bet is hence to get from a recognised and safe company. We personally chose to get from the tourist information center which is right outside the arrival gate. We arranged for a 2 way trip (where they would pick us up on the last day) and it cost us around US$50. And boy was it worth the money! While we were expecting a normal taxi to come pick us, we were instead guided to our LIMOUSINE  by our Chauffeur which signalled a great start to our holiday.
The trip from the airport to the hotel was around 45mins~1hr+ depending on the traffic (which at times can be really crazy). But from the moment your limo pulls in infront of the hotel, you would be greeted with Apricot's 5 star service. A doorman to open our car's door and shelter us with a brolly into the hotel (it was raining when we arrived), a bellboy to carry our luggage in for us, a steward to offer us welcome drinks and english speaking front desk staff that aided us in our check-in.
Day 1 – Afternoon: Vietnamese Pho Lunch + Shopping
After checking into your room, it's time to fill those starving tummies that have been growling since the plane ride. As the saying goes, you haven't been to Vietnam till you try out their Pho. Just a 5 mins walk from Apricot Hotel, along the street of St Joseph's Cathedral is a famous Pho Cafe.
Address: 10 Lý Quốc Sư, Hàng Trống, Hoàn Kiếm, Hà Nội, Vietnam
The good news is that there have a pre-set English menu which comprises of Pho with various types of different meat that you can choose from. Simply point and that was it. Ordering drinks on the other hand, was slightly more tricky as there was no menu and their english was limited.
After lunch, you can start exploring the area. Head over to the next street at Luong Van Can for some local shopping experience (and also visit the St Joseph Cathedral if you haven't already)
Day 1 Evening: Hoan Kiem lake + Ngoc Son Temple
If you ask anybody about the best attraction within Hanoi, Hoan Kiem lake would be one of the first few attractions that pop up. Hoan Kiem lake also known as the lake of the returned sword, has it's own legend about an Emperor and a turtle that asked for his magic sword. But as a tourist, all you do need to care about is that the lake is very scenic and makes for a good Photoshoot location.
The good news is that Hoan kiem lake is located directly opposite Apricot hotel. Spend the evening taking a stroll around the lake where the setting sun makes the place very beautiful. As you stroll along the lake, you'll get to see some of the locals engaging in their various activities such as tai chi, badminton etc, which really gives you an insight of the lives that Vietnamese lead. You can also wander onto Ngoc Son Temple which is located in the middle of the lake. Take the prominent red bridge across to get there.
Day 1 Night: Playboy Mansion Hanoi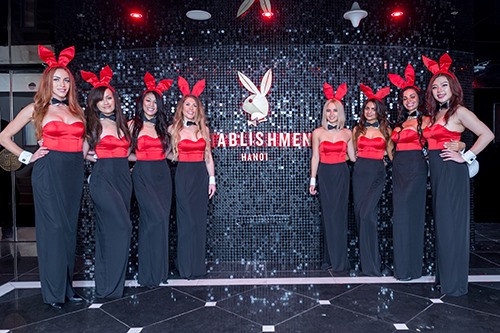 Everybody knows Playboy and their signature bunny. The iconic brand has made it's way to Asia and has opened up their first nightspot in Asia in Hanoi. The location? Directly under Apricot Hotel. It really doesn't get more convenient than that.
Playboy offers a combined entrance fee that includes admission, meal and their daily performances. Check with the staff members present to find out more about the show of the day.
Day 2 : Dragon Legend Cruise – Halong Bay / Bai Tu Long Bay
*Do note that you should book the Dragon Legend cruise prior to your trip. Click HERE to check availability and prices. *PS Prices include meals.
Hanoi's most iconic landmark has to be Halong Bay. The locals deemed it as one of the wonders of the world and it is a MUST when you visit Hanoi.
Halong Bay is located appx 3hours drive from Hanoi and it is often recommended to opt for a cruise when you are there. After sourcing a few companies, we decided on Dragon Legend Cruise as we read about how the cruise would venture into parts of Halong bay not accessible by other companies.
The cruise journey starts with staff members picking you up in a Limousine from your hotel. The Limousine came with Free on board wifi which made the 3 hrs drive seem shorter than it actually is. The comfort of the Limousine was also very helpful in mitigating the portholes and uneven roads along the way. (I'm saying this cause we realized some people chose to hire a private car to send them to the docks)
Upon arrival, we were swiftly boarded onto the magnificent 4 stories junk boat. I can't have higher praises for their rooms which aside from having a huge ass window which you can look out from, also has a bath tub in every room. Imagine having a hot bubble bath in the comforts of your own home as you sail along the endless limestones along the Halong Bay river.
Prices for the cruise came with 3 meals (excluding drinks) so we barely had to spend a dime on board. It was about 330pm after lunch when we arrived at our first destination, Bai Tu Long Bay. Bai Tu Long bay is a stretch within Halong bay that is relatively unexplored. We were given the option to either Kayak or take a small boat to explore the area. We chose to Kayak and fully immerse ourselves in the serenity the place has to offer.
After Kayaking, we made our way to the top of the junk boat's mini hot tub/pool and laid back as the journey whisks our worries away. That was followed by dinner and performance by the crew members. After hours activities include on-board massage or for the curious, fish for squids with the crew at the back of the boat.
Day 3 Morning: Dragon Legend Cruise – Thien Canh Son Cave
We start our day bright and early on Day 3 as the junk boat makes it's way to Thien Canh Son Cave. Explore these caves and wow yourself with the beauty of nature. Word of caution, you might want to bring a better camera when you head to the caves.
After that, it was lunch before disembarkation.
It was a short 2D1N trip (they do offer longer cruises if your itinerary allows) but we have to say that we did throughly enjoyed ourselves. Because each junk boat only has a limited amount of rooms, crew members and guest felt more like friends and family going on a trip together.
Day 3 Afternoon: Water Puppet Show
Before dropping you back at the hotel, Dragon Legend Cruise has also arranged for guest to enjoy a complimentary water puppet show at a Village. Water puppet shows are uniquely Vietnam which you probably can't find such shows anywhere else in the world.
Day 3 Evening: Weekend Market 
We got back to the hotel around 5~6pm in the evening. After a quick change, we were off to Hanoi's weekend market for some shopping. Again, we have to commend Apricot's accessibility as the weekend market is located just a short 5mins walk from the hotel itself. There you will find local goods, clothes, electronics etc. When you are hungry, just head to the lake where there are plenty of restaurants that you can choose from.
Find the night market along: Hàng Đào
Day 3 Night: Rooftop Bar
After you are done with dinner and shopping, head back to Apricot and up to their top floor. Grab a drink or some desserts and enjoy the magnificent view of the city.
Day 4: Ho Chi Minh Mausoleum
The last attraction would be to head to Ho Chi Minh Mausoleum where the body of their late Communist Leader, Ho Chi Minh lay. Do note however that the place only opens in the day and visitors must adhere to a strict dress code (no bare shoulder, short skirts etc)
When planning for your trip back to the airport, do cater time for traffic conditions which might double the traveling time.
It was a relatively short trip and we wished we could have stayed longer. But for a 4 days trip, we were glad we managed to covered most of the key places in and near Hanoi.
We hope our Hanoi Itinerary has been helpful and don't forget to share it with your friends/family who are/would be heading there!