A city of mystery and wonder
Istanbul is the only city in the world which straddles two continents – that should tell you something about its stature and importance, not to mention it being a pretty cool photo to have in your collection to show the folks back home!
The mighty Bosphorus Bridge links the two continents, with the European and Asian sides offering plenty to keep sightseers busy, both first timers, and return tourists.
Most people choose to base themselves on the European side, mainly because there is more in the way of touristic opportunity here, and the bulk of accommodation is also located on this side, having said that however, the Asian side should certainly be explored and the best way to get to it is by a Bosphorus cruise, feeding the greedy seagulls as you go!
Most people fly into the huge Ataturk Airport in Istanbul, however many cheap charter flights are now using Sabiha Gokcen Airport on the Asian side, and it's not difficult to find transport links that will get you from one side to the other, be it the Havas bus service, or a private transfer, which you can easily find via the internet.
Once you're safely in your accommodation, you'll want to start your sightseeing mission. Here's a 5 areas you should certainly put on your to do list.
Hagia Sofia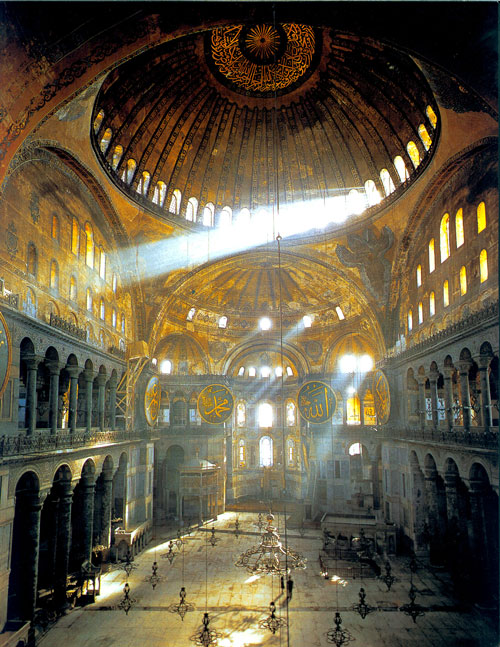 In Sultanahmet, the old, historic part of Istanbul, you will find many attractions of significance, and for me the Hagia Sofia was the most beautiful. This is where Christianity and Islam come together in the most stunning way, with chandeliers hanging from the ceiling, almost floating in mid-air. This was the first place that blew my mind in Istanbul, and I'd go back again tomorrow in a heartbeat. Certainly make this one of your first ports of call.
Blue Mosque

Standing opposite Hagia Sofia you will find the equally beautiful Blue Mosque. You will need to adhere to mosque etiquette when visiting, and as this is a functioning mosque, do check times when it is open to the public. Women must cover their heads and wear appropriate clothing, and everyone must remove their shoes. Once inside, you will be amazed at the intricate architecture and mosaic patterns to the roof – it really is simply beautiful.
Grand Bazaar

The one thing to note about this riot of colour, noise, and sometimes hilarity, is that even locals get lost in the Grand Bazaar, so don't worry if you find yourself stuck in the middle of a maze! Shopping is a must here, and you haggle your price to get the lowest possible. This is simply the best place for souvenirs, and a true rite of passage for a visit to Turkey overall.
Authentic Turkish cuisine

Whether you choose street food or a proper sit down restaurant, you simply have to try authentic cuisine. Turkish food is delicious, full of flavour and portions are certainly plentiful. Try a chicken kebab for a riot of flavour, or kunefe, a delicious dessert that will make your mouth water.
Taksim

No visit to Istanbul is complete without a night out in colourful Taksim! If Sultanahmet is where the history is, Taksim is where the nightlife is, and you'll be treated to authentic Turkish music until dawn – the perfect way to finish off your city break in Istanbul.
These are just a few things our Singapore Travel Blog recommends you should do during your city break visit to this iconic destination, and there is no way on earth you'll be able to pack much more into your short time away; there is simply too much to see and do in one visit, but if you cover these bases, you'll certainly get your mouth watering for your next visit.
See also: