When our Singapore Travel Blog first covered the story of the World's most expensive restaurant in Ibiza,  we learn that most of the time the prices of food is often not in the food itself, but also the entire experience of dining as a whole. While it is still a far cry from Sublimotion's US$2,300/head, we chanced upon another restaurant that's taking the whole dining experience to another high (pun intended).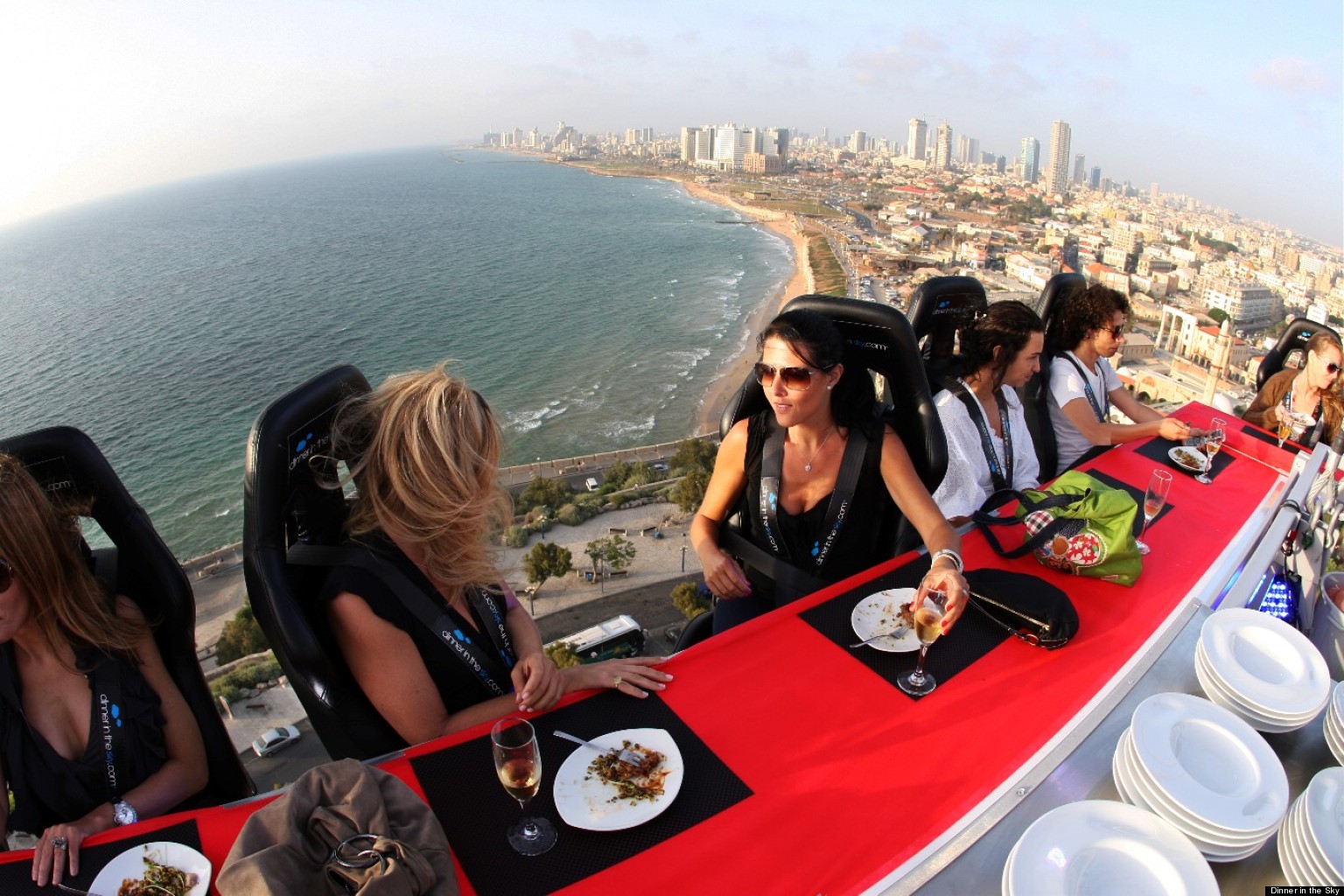 Dinner in the sky is… well… literally having Dinner in the sky. For £200, 22 diners get strapped into their seats and get hoisted up 50m (164ft) into the sky for an hour on a open air platform without any floors or walls. Surrounded by nothing but a clear canopy, it brings sky dining and dining with a view to a whole new level. Your on-board chefs then do the finishing touches on your meals in-front of you before it is served by the on board waiter/waitresses.
The best part? The idea of the whole being hoisted up experience isnt even just limited to dining. Dining in the sky offers their clients limitless options of what they can/want to do with the experience. From holding your wedding in the sky to having your own private concert 50ms in the air away from everyone else, you can practically do whatever you want (if price isn't an issue). Imagine having an "outdoor" business meeting with your most valuable business clients/partners, just how impressed would they be?
All these was made possible in 2006 when 2 companies, Hakuna Matata, a communications agency focused in gourmet pleasures, and The Fun Group, a company in the crane deployment for amusement park industry, came together to make their dream a reality. 9 years since it's inception, Dining in the Sky has flown in the skies of over 45 countries across Europe, Asia, China, US etc.
While all that sounds awesome, there's still one very important question lingering in everybody's mind, WHAT HAPPENS IF YOU NEED TO USE THE LOO? The fact of the matter is this, there's no toilet facilities in the air, so you simply head to the toilet like how you would in any other restaurant, only thing is that you would have to let the waiter know and you would also have to endure the deathly stares from the rest of the diners as the dining experience would have to come to a halt as they ground the entire platform. Even though that would take probably less than a minute, we can only imagine how it would be like for your other diners who have too paid £200 for their experience. So if you are ever heading for this, do be a nice considerate guy and go to the loo BEFORE boarding, after all, it's gonna be just an hour!
Would you pay £200 for this? What are some of your other awesome dining experiences? Let our Singapore Food Blog know in the comments below.
Read also: