In the last of our 3 part series, our Singapore Travel Blog partners with Michelle, a USA resident who writes frequently for travel blogs, to share with us some of the best things to do in the popular Santa Monica Beach from her perspective as a local!
Santa Monica? You could easily spend over a week here and not get everything in, but I can help with the musts. The weather is incredible year round so be sure you have your sunscreen, flip flops, and travel savvy clothing that will easily convert from daytime beach-friendly to active-nightlife. Santa Monica is adjacent to Los Angeles so you have the opportunity to see celebrities and enjoy high end shopping, but being a beach community it's also much more laid back. Plan on enjoying sweeping views of the Pacific along wide inviting beaches, with plenty of opportunity for dolphin and whale sightings.
If you can manage it, keep yourself ocean-side. Try and stay at an oceanfront condo. Consider the incredible Loews Hotel. Or get an Airbnb deal and stay in someone's semi-finished garage. Wherever you stay, you'll be glad you decided to overnight with a view once you get a glimpse of the Pacific moonscape.
You must play on the pier. Period. The Santa Monica Pier is iconic and easily an all-day activity. Thrill seekers can join the Trapeze School of New York. It's a relatively new addition to the pier, but worth the two-hours you'll need to set aside for the class. If that's not for you, I recommend a walking tour. You can follow a docent or pick up a pre-recorded guided tour. There is so much history here, you could run through the tour three times with different docents and still get new factoids each time. The Santa Monica Pier Aquarium is beach level and makes a great stop for families and couples alike. It gets busier as the weekend days progress, so I would make this a pre-lunch stop. There is an actual amusement park on the pier complete with cotton candy, a roller coaster, and a carousel. The most famous stop is a nine-story solar-powered ferris wheel.
Hint: if this is a romantic adventure, save the ferris wheel for late evening. There's something about being over the water and above the bustle with that sparkling view that really lends itself to a quiet kiss-stealing moment.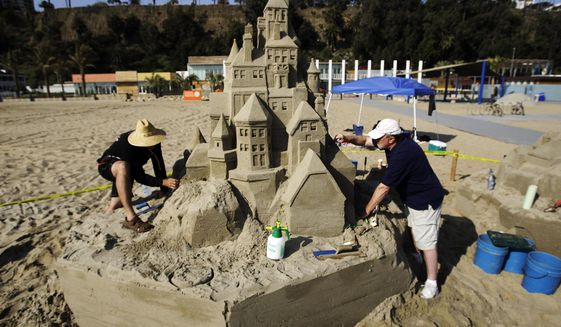 Of course walking along the beach is what you probably thought of when you decided Santa Monica was your destination. There are paved walkways that run the length of much of Santa Monica and beyond. You can walk or bike. Consider renting a Segue if you have never tried it before. They are upright and just as versatile as bicycling. Watch for sand castle building contests. If you plan to be at the Pier entrance on a Saturday morning, you'll most likely enjoy the artistic renderings of a talented, nameless man who will carve your likeness in the sand for a tip and a smile (beware, photos are extra). You can take surfing lessons, join steel drumming circles, and I would definitely recommend taking a driving tour with the infamous Starline Tours. These double decker busses run through celebrity hot spots in Los Angeles and drop you off right at the Santa Monica Pier.
We shouldn't forget the food. Being in California means you have a variety of choices. While the food court is a classic stop, you also have plenty of restaurants to patronize. Try lunch at either, Mariasol Cocina Mexicana on the West end of the pier for a quiet view. Or try Ristorante Al Mar for the gorgeous rooftop dining. Soda Jerks is a must afternoon stop for ice cream and a cool down. Dinner will be at Rusty's Surf Ranch. Don't let the name fool you. It's patio dining, live music, dancing, and tasty classic American food.

If you have the time, here are some bonus adventures I would highly recommend. Check out the Santa Monica Farmer's Market. It's so much more than fruit and veggies. There are flowers, classes, demonstrations, and street performers. Neighboring Venice beach is a little more "gritty" these days, but it's people watching heaven and Muscle Beach is an iconic historic landmark. OK, I'm not sure whether the preservation society has deemed it a landmark, but it's where all the best athletes workout in full view of passersby and makes for an interesting photo op. Lastly, drive the Pacific Coast Highway, also called "The One." It's as famous, if not more so, than Route 66 and will take you along the coast with a view of the channel islands, past open strawberry fields, through the foothills, and eventually to wine country.
Santa Monica is often treated as an extra day for people visiting Los Angeles, but when given its due tourists realize it's more than an old fishing town where Baywatch was filmed. Santa Monica has a rich history and is worth at least a few days of exploration. Enjoy the slower pace, the endless sun, and the classic California culture.
Read also: